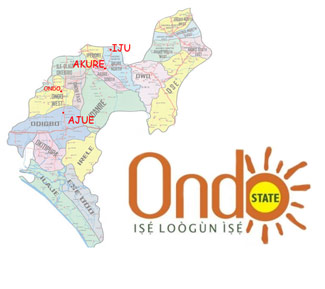 By Temitope Adedeji, Akure
Tragedy struck on Tuesday evening at Arogbo-Ijaw in Ese-Odo Local Government Area of Ondo State as a Cherubim and Seraphim Church under construction collapsed, killing one pregnant woman and five other residents.
Four other persons were reported to be seriously injured, when the church building which is being renovated for expansion suddenly collapsed and some people were trapped.
An eyewitness told journalists that the six casualties, who were women that went to the site of the church building to fetch some fire woods before the incident happened.
The Regeant of Arogbo-Ijaw, Prince Amos Sofiyea, who was said to have rushed to the scene when it was reported to him, alleged that the incident might have been caused by the use of inferior materials for the renovation.
Confirming the incident, the caretaker Chairman of Ese-Odo  Local Government, Mr Bekekewe Olowu and one of his Informantion Officer,  Monday Konwei described the incident as devastating and unfortunate.
When contacted by newsmen, the State Police Public Relations Officer, PPRO, Mr Femi Joseph, who said only five people lost their lives in the incident, gave the name of the victims to include, Morenike Bubuma, Margret Goloba, Mayama Goloba, Kowei Aboa and the pregnant woman, Dali Gunuboh.

Like and Share this: