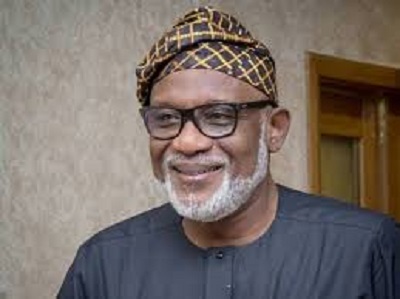 By Temitope Adedeji, Akure
The national president of Aquinas College, Akure, Old Students Association, Hon. Justice Olateru, Olagbegi, has commended Ondo state Governor, Rotimi Akeredolu over his decision to return secondary schools back to original owners.
He made the commendation in Akure, the Ondo State Capital, during the press conference to mark the 70th anniversary of the college.
Justice Olagbegi who was at  Lagos High Court for years also declared that all participants at the 70th anniversary of the college established on January 28, 1951 must comply with COVID-19 established protocols.
He disclosed that the college would turn 70 years old on Thursday with a solemn mass at Mary Queen of Angels parish with Rev. Fr. Jude Arogundade, Catholic Bishop of Ondo Diocese being the officiating minister.
On the same day, the Emeritus Judge of Lagos State Justice Olateru-Olagbegi said that Anniversary College Gate would be commissioned to mark the beginning of the anniversary.
He noted that due to COVID-19 pandemic, there might be some modifications in the programme schedule to accommodate any change in the wave of the virus.
This Friday would mark the end of the first segment of the anniversary when a mentoring talk for the current students of the college to help them shape their aspirations would hold.
According to the ACAOSA's national president, the resource person, Pastor Wale Akinyanmi, would be engaging the students in entrepreneurial talks.
He revealed that all participating students would sit in the open at four different locations within the school compound in order to maintain social distancing and adhere strictly to all COVID-19 protocols while the talks is on.
Justice Olateru-Olagbegi said public address systems have been provided by one of the old students, Nnamdi Okoye, to make communication with the participants easy.
The second segment of the anniversary would come up in March when the Anniversary Sports Pavilion and other renovated classrooms would be inaugurated by the association.
Rival secondary schools, including Oyemekun Grammar School, Christ's School, among others, would be invited to sports competition as well as interschool science competition which would be moderated by Prof. Francis Oluwole.
Tentatively, March 7 would mark the end of the anniversary with thanksgiving service at Mary Queen of Angels.
Present at the media briefing was the National Secretary of the association, Mr. Lanre Abiodun, National Vice President, Mr. Taiye Adeoti, National Vice PRO, Adu Prof. J.S. Ojo, Principal of the school, Mr. Afolabi Oni, among others.

Like and Share this: