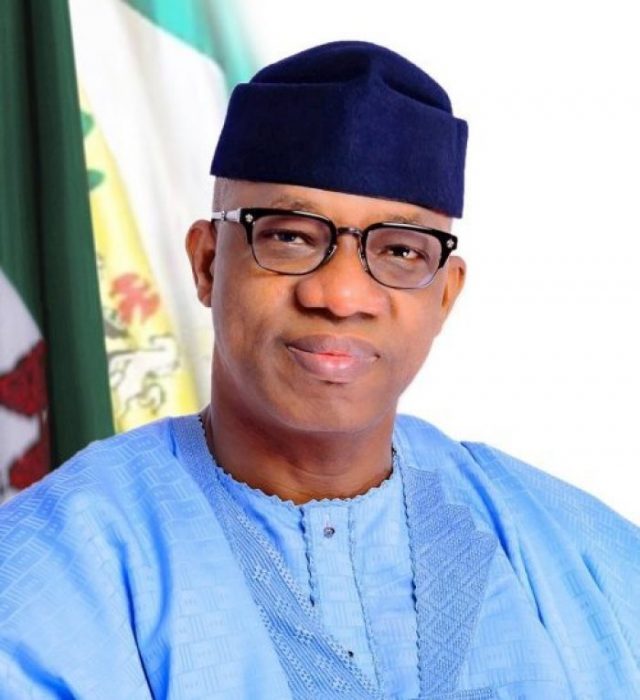 By Kolawole Olayinka, Abeokuta
The Ogun State Governor, Prince Dapo Abiodun has described the late Mama Felicia Adeniyi, mother of a former Chairman, Ikenne Local Government and the present Chairman, Ogun State Transport Committee, Barr. Sunday Adeniyi, as a committed and dedicated Christian, a lover of children, who took good care of everyone around her.
Abiodun who made this known at her final burial ceremony in Ikenne, extolled her courage as a politician, when she joined the National Council of Nigeria and the Cameroons (NCNC) Party, despite the fact that the town of Ikenne had the Action Group, a party which had the late sage, Obafemi Awolowo as its leader.
He noted that mama Felicia appreciated the value of education, took special care of her children and ensured they were well trained, adding that she was indeed a good mother, grandmother and great grandmother.
In his sermon, the Archbishop of the Ecclesiastical Province of Lagos and Bishop of Diocese of Remo, Most Revd Dr. Adesina Fape, said the deceased was favoured to have lived up to 89 years, saying, ''good works will not save a man from eternal condemnation but his relationship with God will grant him eternal rest''.
Fape urged the Governor not to renege on his promises and plans for the people, calling for fixing of roads across the state.
"Politics is good, it is a means of service. Christians in politics, let your good works be seen. Our roads are bad, not only here, it is all over the country.
"What you do today will be said about you tomorrow. If you don't fear men, fear God, if you have a political will, you will achieve your set goal", he said.

Like and Share this: