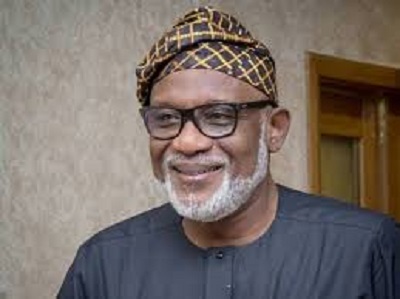 By Temitope Adedeji, Akure 
The Ondo State Governor, Oluwarotimi Akeredolu has imposed a 24-hour curfew in Ikare-Akoko, Akoko North East Local Government Area of the state over chieftaincy title dispute that led to violence in the ancient town.
Governor Akeredolu, who spoke through his Commissioner for Information and Orientation, Donald Ojogo on Wednesday in a statement in Akure said the curfew takes effect from Wednesday 6.00pm.
According to him, the security agencies have been deployed to the troubled spot, and mandated to enforce the curfew.
Two-persons were on Monday feared killed in Ikare Akoko, as two factions of youths reportedly engaged in a clash over the Okoja chieftaincy title in the community.
It was gathered that two traditional chiefs; Chief Idowu Ogunye and Chief Sunday Bada, were fighting each other over the Olokoja chieftaincy as the Olukare of Ikare, Oba Akadiri Momoh reportedly remove Ogunye and replace him with Bada.
But Ogunye reportedly insisted that he was still the Olokoja of Okoja quarters.
However, it was learnt that Bada summoned a meeting on Monday, but some youths allegedly disrupted the meeting leading to a gunfight, during which two persons were shot dead, while some were injured.
Governor Akeredolu said that anyone who violates or contravenes this order would face the full wrath of the law.
Meanwhile, the state government has ordered the immediate suspension of all activities relating to the Olokoja chieftaincy title.
The statement added that no one is permitted to parade himself as Olokoja, or engage in promotional activities relating to the title in question.

Like and Share this: