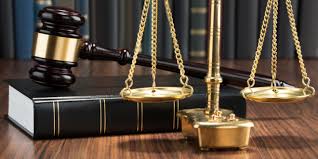 Olawale  Ibrahim  ,Lokoja
Furtherance to his earlier directive in the face of the novel Coronavirus (COVID-19) disease ravaging the world and in line with the directive of the Chief Justice of Nigeria and the government of Kogi State, the
As part of efforts to combat the rampaging Coronavirus in State ,the Chief Judge of Kogi State,Justice Nasiru Ajanah  has approved the deployment of an electronic platform for the conduct of court processes in Kogi State.
In a statement signed by the Chief Registrar A.U.  Enefola CV copy of which was made available to journalists in Lokoka on Thursday, said was in line with the directive of the Chief Justice of Nigeria and the government of Kogi State.
The Statement noted that those desirous of the services of the courts in the state during this period of partial lockdown of civil service in the state are to link up with the courts in the state through an e-mail account on kogihighcourt@gmali.com
"This is in line with the ongoing process of the domestication of the Nigerian Judiciary Information Technology Policy (JITPO) which the state judiciary has since adopted.
The Chief Judge's decision is a reiteration of the earlier directive that only  urgent and criminal matters would be entertained by all the divisions of the High Court of Justice, Magistrates and Area Courts in the state that have been sitting over criminal matters and remand proceedings ONLY.
"In addition, his approval is to further reinforce that despite the skeletal services being rendered by the courts in the state litigants, lawyers and the general public are assured that the state judiciary is determined to always bring the courts closer to the people with professional efficiency and effectiveness regardless of any prevailing circumstance.
"Consequently, prosecuting entities, lawyers and litigants with interests in such urgent criminal matters and members of the public who interface with relevant officers of the courts through the above given e–mail account are guaranteed of getting kogi judiciary's usual services of corporate institutional excellence. Enquiries and all other demands would be met with utmost dispatch and accorded the normal attention with deserved confidentiality through the same means. And where the need may arise for personal contact with an enquirer or concerned party, the needful would be done immediately.
In addition to the above, designated registries of the courts are still opened to the public for such urgent criminal matters as stated above.
"The public is however warned against the abuse of this process as the Judiciary Information Technology Policy has inbuilt regulators just as other measures have been put in place to check any possible untoward activity(ies) of potential unscrupulous members of the public who might want to take advantage of the system, the Statement stressed

Like and Share this: