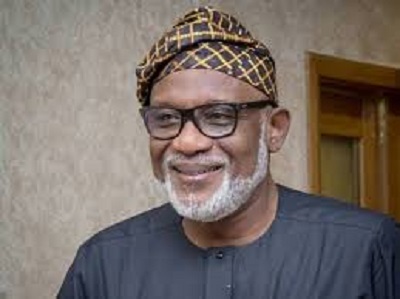 By Temitope Adedeji, Akure
The former Chairman, Ondo state Sports Football Agency (ODSFA), Hon Akinsola Akinbobola has advised the state Governor, Rotimi Akeredolu to appoint competent hands to run the affair of the state.
Akinbobola who was former Chairman of ODSFA during Governor Olusegun Mimiko administration also called on Governor Akeredolu to put the state economy on a new slate.
He stated this in Akure during a telephone interview with Western Post on what residents of the state should expect as the inauguration of Governor Akeredolu for the second term draws closer.
According to him, "I will like to say that the governor, Rotimi Akeredolu should put all machineries in place to revive the state economy.
"Competent people should be put on board to assist the governor in driving the economy and stop being expectant from the Federal government in terms of state allocation"
He said that he believed the governor would want to reciprocate the gesture of overwhelming love and votes the people gave him during the last election by continuing with the infrastructural development he is known for.
Akinbobola, who was an SSA to the former governor Mimiko advised the people of the state to rally round the governor in developing and uplifting the state.

Like and Share this: