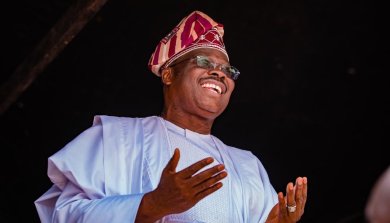 By Bode Akinbode, Ibadan
Oyo state Governor, Engr. Seyi Makinde yesterday sent a condolence letter to the family of the late former governor of the state, senator Abiola Ajimobi nine days after his demise.
Ajimobi died last week Thursday during a brief illness in Lagos.
However, after his death was announced, various controversies trailed the reaction of the state government.
This controversy degenerated into a public exchange of words between the wife of the former governor, Mrs. Florence Ajimobi and the state government few hours after the remains of Ajimobi were interred.
Ajimobi's widow would later accuse the state government of not sending the Ajimobi family a condolence letter.
After the public exchange of words, the state government earlier today finally sent a condolence letter to the family of the two-term governor.
In the letter, which was signed by Governor Makinde on behalf of the government and good people of Oyo State, he commiserated with the family over the shocking demise of Ajimobi.
"Senator Abiola Ajimobi, the immediate past Governor, lived a life of service to humanity and has contributed immensely to the socio-economic development of Oyo State in particular and Nigeria in general. I have no doubt he will be missed by all and sundry.
"Our consolation however, is that Senator Abiola Ajimobi, has brought his rich wealth of experience for the transformation of the state," the Governor wrote in the letter.
He added," As we mourn his passage, let us take solace in the righteous life he lived and his legacies which we shall fondly remember. May God Almighty give members of the family, the fortitude to bear the irreparable loss."

Like and Share this: