Its now official! The Independent National Electoral Commission (INEC) is going ahead with Saturday's governorship election in Edo State as scheduled.
After a meeting on Thursday, the commission decided to ignore the advice by the Police and Department of State Services that it should postpone the election, citing security concern.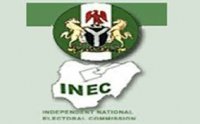 Police and DSS had advised INEC to postpone the poll, saying there was credible intelligence that the Boko Haram sect planned to attack 13 states including Edo around September 12 and 13.
The advice was given on Wednesday at a news conference by Police Spokesman Awunah.
INEC initially said though the security agencies were yet to communicate the advice to them, it was going to consult on the matter.
But on Thursday afternoon, the commission decided to ignore the advice after carefully weighing all the consequences and parameters of postponing the election.
Addressing journalists at the Edo State office of the commission on Thursday afternoon, the National Commissioner in charge of Voter Education and Publicity Committee of INEC, Prince Solomon Adedeji Soyebi, who expressed the determination of the Commission to go ahead with the election, said as at Wednesday, the Commission had reached not less than 97 per cent level of preparation for the conduct of the election.
Except the actual conduct of the election, he explained that the commission had scrupulously implemented all the items listed in the Timetable and Schedule of Activities for the Edo governorship election which it issued in March this year.
Prince Soyebi said the commission would not be teleguided and that it would not do anything that would mortgage Nigeria's democracy.
He further said the commission robustly considered the implications of demobilizing and arrived at the fact that it was more expensive to do so.

Like and Share this: