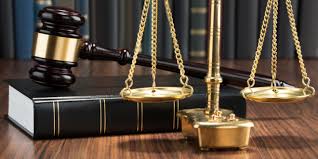 By Kolawole Olayinka, Abeokuta
The Ogun State Chief Judge, Hon. Justice Mosunmola A. Dipeolu has inaugurated the State Justice Reform Team.
The inauguration took place at the Conference Room of the State High Court, lsabo, Abeokuta.
Members of the Committee include High Court Judges, Magistrates, Chairmen of Nigeria Bar Associations, Representatives of Police, Custom Service, Trace, Civil Society and Human Right Group, The Nigeria Union of Journalists, The Christian Association of Nigeria and League of Imams and Alfas.
In her inauguration speech, Hon Justice Dipeolu noted that the State Justice Reform Team would help in ensuring speedy dispensation of justice and facilitate decongestion of Courts and Prisons.
According to the Chief Judge, the Ogun State Justice Sector Reform Team is a cross sector of team established to promote and facilitate Justice Sector Reform as well as promote communication and cooperation among team members for quality service to the people.
Also speaking at the event, the State Commissioner for Justice & Attorney General, Mr Olumide Ayeni noted that the State Government will provide the enabling environment for the team as well be prepared to provide the political will to support needed reforms proposed for the Justice Sector in the State.
The team thereafter commenced a 3 days retreat facilitated by representatives of the European Union, British Council and the Federal Justice Reform Team.
Ogun State now made the 28th list of other States that have set up the Justice Sector Reform Team.
Like and Share this: