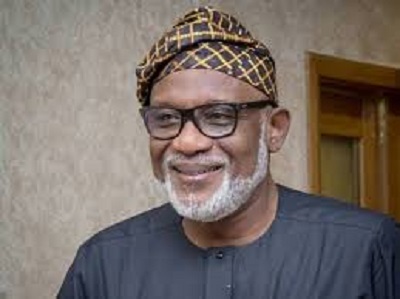 By Temitope Adedeji, Akure
The Ondo State chapter of the All Progressives Congress (APC) has congratulated the governor of the state, Rotimi Akeredolu over the Doctor of Laws (Honorary Causa), conferred on him by the management of Ajayi Crowther University, Oyo, Oyo State.
A statement issued on Saturday by the Publicity Secretary of the party, Alex Kaleijaye said that the award was well deserved and long overdue.
The statement said: "The APC in Ondo views the performing Governor, Arakunrin Oluwarotimi Akeredolu, SAN, as long overdue.
"We are, however, grateful to the management of Ajayi Crowther University, Oyo, Oyo State, for spotting the vital gap for appropriate decision.
"The party congratulates Mr. Governor, the government of Ondo State, the Nigerian Bar Association and the informed people of Ondo State on the well-deserved honour.
"The award, no doubt, is in recognition of Arakunrin Akeredolu's selfless contributions to the development of jurisprudence in Nigeria, enhancement of human rights, and his avowed commitment to good governance.
"In a society where political leaders seek attention and curry recognition, the legal giant's preoccupation is to work for the betterment of humanity and posterity. He neither craves accolades nor seeks commendations.
"The massive investments of the Ondo State Government, particularly in roads and bridges, industrial expansion, health and agriculture under the leadership of Dr. Oluwarotimi Akeredolu, SAN, in less than five years, is unbeatable anywhere in the country.
"The state chapter of the APC is convinced that the enviable recognition will spur Mr. Governor to further amplify his campaign for justice, fairness, equity, and selfless service in the public sphere."

Like and Share this: