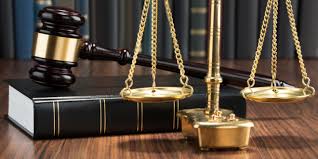 By Temitope Adedeji, Akure

A court case filed by the former Deputy Governor of Ondo State, Lasisi Oluboyo, against the state government over his unpaid pension arrears and other emoluments, has been dismissed.

In the judgment delivered at the state High Court by Justice Bode Adegbehingbe, said the Former Deputy Governor's case can't be heard in the state High court and that the court lacks the jurisdiction towards it.

The judge therefore advised that the case should be heard at the Federal Industrial Court.

However, the former Deputy governor has been in court for a while since the inception of the APC administration in the state over his emoluments since he left office in 2017 under Dr Olusegun Mimiko.

It would be recalled that, Alhaji Ali Olanusi was the Deputy Governor before he was impeached by the majority members of the state House Of Assembly and Lasisi Oluboyo was swore in immediately.
Alhaji Ali Olanusi has been enjoying the benefits of an ex deputy governor of the state despite his impeachment but it was learnt that the court insisted that the impeachment process was illegal and not properly done.
The impeached deputy governor is a member of APC Trustees and this may probably hinder the case as said by one of the sympathizers at the court premises who would not want his name mentioned.

Like and Share this: