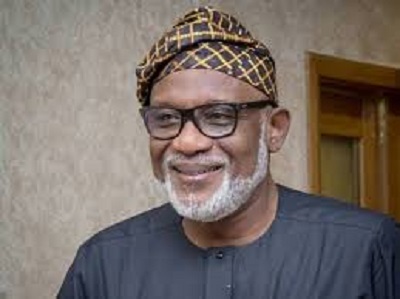 The Peoples Democratic Party (PDP) in Ondo State has lambasted Governor Rotimi Akeredolu over his failure to pay allowances of security agencies in the state.
The party in a statement signed by its publicity secretary  Kennedy Perete said that soldiers at security checkpoints in the state, especially at the inter-state boundaries have abandoned their posts.
This, he stated, is as a result of the refusal of Governor Akeredolu to pay allowances due to the security personnel.
The party in a statement said: "Over the years, the Army high command approved the mobilisation of soldiers to 32 strategic locations in the state to stem the activities of kidnappers and other criminals on the condition that the state government pays a token as allowances to the soldiers. This arrangement preceded the incumbent administration under Akeredolu.
"Unfortunately, in the last four months, these allowances have not been paid. All efforts to appeal to the governor fell on deaf ears. Also, efforts by traditional rulers to plead with the governor did not yield any results.
"In the last one year, eleven traditional rulers have been kidnapped, while one first-class Oba, the Oluifon of Ifon was murdered in cold blood by gunmen.
"The party joined other well-meaning Ondo State citizens to appeal to Akeredolu, to immediately pay the outstanding allowances due to the security personnel without further delay.
"The primary responsibility of any government is the protection of lives and properties, a duty that has been observed by the APC Government more in the breach.
"Even with the presence of the soldiers, the people don't sleep with their two eyes closed. What happens when, the criminals now have a field day, because of the failure of the Governor to do the needful?"

Like and Share this: