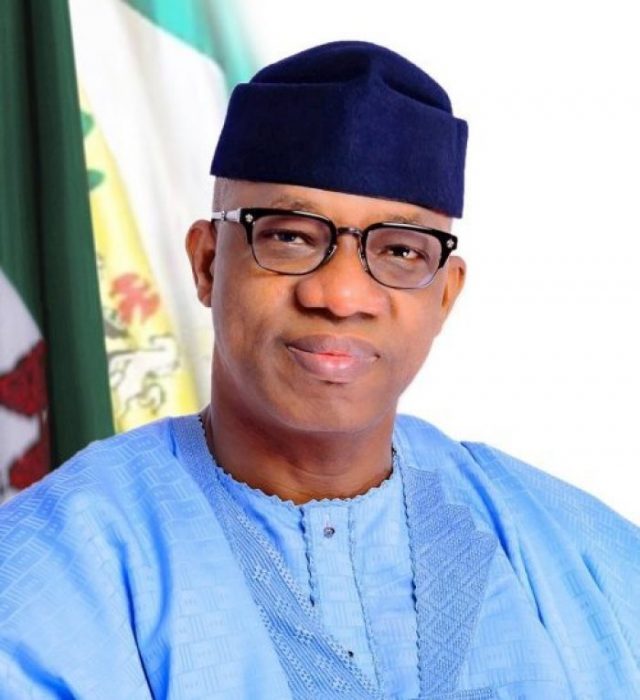 Let me say here that the intent of this piece is not to keep scores or undertake appraisal per se. On a normal day I see such an exercise as tainted with credibility lacuna as well as fraught with the accusation of subjectivity.
That can only be so, far as any development expert would freely tell you, all government policies, no matter how good and well-intentioned, have unintended, usually negative consequences particularly in the short run for some persons in the society.
And it is a timid and impotent administration that will shy away from executing its policies due to its possible unintended consequences on some of its people.
For any action-oriented government, it rings true that eggs have to be broken to serve omelets now and in the future.
So in this wise one will like to x-ray the philosophical underpinnings of Abiodun's administration in the implementation of certain policies in one year.
One such underpinning that is in the public domain is the concept of good governance on infrastructural development which is the first among the five pillar developmental pillars of the Price Dapo Abiodun administration popularly ISEYA.
Indeed, in all, Abiodun's administration has reconstructed a total number of 87.4km of new roads across the three senatorial districts of the state, while 246.26km of roads have been rehabilitated throughout the state.
It would not be out of place then to posit that Abiodun got his mandate in whole or in part on his agenda "Igbega Ipinle Ogun, Ajose Gbogbo Wa Ni" in the five cardinal areas of focus for his administration namely; INFRASTRUCTURAL, SOCIAL WELFARE & WELLBEING, EDUCATION, YOUTH EMPOWERMENT, AGRICULTURE & HUMAN SECURITY, which was connoted and encapsulated under the acronym ISEYA.
Without doubt, Abiodun administration can point to tangible results in some or all of these cardinal areas and one can at least swear by the road he constructed, which include; Ijebu-Ode/Epe Expressway, Ota-Owode/Idiroko, Ado-Odo/Ota Local Government Area, Bright Fashion Baruwa Street, Sagamu, Sagamu LGA, Iberekodo General Hospital Internal Road, Abeokuta North LGA, Ikola/Navy-Osi Ota Road, Ado-Odo/Ota LGA, Raypower Road, Ado-Odo/Ota LGA, Hospital Road, Sagamu, Sagamu LGA, State Hospital, Ilaro Internal Roas Network, Yewa South, Oru-Awa-Alaporu-Ibadan, Ijebu North LGA.
Abiodun administration paying not lip services to these reconstructions of roads but making it very motorable for the people of the Areas within one year in office, he further reconstructed Molipa-Fusigboye-Ojofa Street, Ijebu-Ode LGA, Asafa Oke-Asafa Isale-Ayegun-Ojofa Street, Ijebu-Ode LGA, Obantoko Road (Fajol-American Junction-Unity Estate-Gbonagun) Phase 1-111, Abeokuta South/Odeda LGA, Idi-Aba – Elite-Oke Lantoro, Abeokuta South LGA, Ikoritameje-Adenrele/Olose Titun-Vespa, Ifo LGA, Abeokuta-Sagamu Interchange; and Oba Erinwole Dual Carriageway, Sagamu LGA, all these was done within 12 months in office. It was a very remarkable impact on the residents of those areas that ply the roads on daily basis after years of neglection.
These roads had redefined the landscape of the State, and the focal point of the urban renewal and rural infrastructural development programme of Prince Dapo Abiodun-led administration, with the temporary pains which had yielded to significant gains. But as aforesaid this piece is not about project execution or appraisal. It is all about policy analysis and future developmental scenarios in the State, these had gone beyond physical, psychological and formal security initiatives, the state has moved on to continue the struggle for better life, banish illiteracy, unemployment and poverty through a numbers of good and relevant initiatives of the present administration.
On agriculture, works are in high gear. For example, the governor had acquired some lands out of the lands endowed the state by God, which of this is very fertile for food and cash crop production with high value that can raise farm incomes and empower the youths and provide food security, not only for Ogun state but the country and for export.  Indeed, in one year, Governor Abiodun activated: Anchor Borrowers Programme (ABP) he facilitated the crediting by the Central Bank of Nigeria (CBN) of 3,500 farmers drawn across all 20 LGAs of the state with over N700Million. Each farmer received 60bundles of improved Cassava stems, 4bags of fertilizers, 11littres of herbicides and fund of N210, 275.
In fact, during the flagged off of the 2020 planting season, Dapo Abiodun distributed fertilizers and other inputs to the beneficiaries of the state ABP; the programme involves 7 commodities, including cassava and rice. The government is also providing technical expertise and assistance to the farmers, which world-class agric tutors handling training and consultancy.  Also, the state broiler project is being carried out in phases. In the first phase, 54 youth beneficiaries were each empowered with 1,000 day-old broiler chicks. Each beneficiary made an average profit of N130, 000 every six weeks of production, and over 9,000 youths have now registered with the State Ministry of Agriculture for the second phase of the project.
On Rice Intervention, the governor has always stressed the importance of food security to the welfare of the people, has given support, through the State Ministry of Agriculture to rice farmers across the state. One of the farmlands provided by the State government is the 120,000 hectare rice farm in Sowunmi Village along the Ofada/Mokoloki axis of the State. The Joint Ogun State and International Fund for Agricultural Development (IFAD) Value Chain Project is already ongoing across 8 LGAs of the State, including Obafemi-Owode, Yewa North and South, Ijebu-North and East, Ifo, Odeda and Odogbolu, with this, the population of the Gateway State would rise and its economy would blossom and provide job for the local people and help the unskilled ones to gain adequate knowledge through training and involvement in the whole process.
The concept of "Igbega Ipinle Ogun, Ajose Gbogbo Wa Ni" in policy terms assume that there are structures on ground to be rebuilt. That assumption is fundamental to the concept for without it, the concept falls flat on its face. Without doubt Ogun State since its creation has structures and infrastructures that even date backs beyond its creation in 1976 courtesy of the Obafemi Awolowo government in then Western Region. Successive government in their own way had ensured that certain social amenities like Road, Water, Agriculture, Health care, Education, Urban Renewal, Infrastructural facilities etc, are in place in one form or another in most part of the state. So Abiodun certainly have structures to collectively put in place with the consent of people of the State in virtually all sectors of the society.
Another assumption for the "Igbega Ipinle Ogun, Ajose Wa Ni" concept is that structures on the ground are in a state of despair, disuse, disparate or outdated as not to serve present and modern realities or incapable of serving projected future needs. Certainly many existing structures in all sectors suffer from these shortcomings in areas like provisions of Infrastructural facilities, Agriculture and educational facilities that this writer experienced firsthand. This situation was further compounded by an almost paralysis of governance in the last five years or so of the last administration following a protracted face-off between the Workers, Executive and Legislative arms of government, due to non-payment of deductions, salary arrears and leave bonus remuneration to some workers in the state.
Also, on education, the State government has rehabilitated 95 public and junior secondary schools and targets 236 that would conform to the Universal Basic Education Commission, UBEC's recommended standard across the 20 Local Government Areas of the State. Abiodun also canceled levy on the schools by meeting a N3, 700 per child PTA levy in schools. Today, the levy has been cancelled and all the public schools are instead now being given monthly running costs by the governor. The governor also launched Ogun DigiClass for students at home taking them through relevant subjects such as; English Language, Mathematics, Computer Science, Basic Science and French at primary and secondary school levels to compensate for the academic time lost due to closure of schools during Covid-19 outbreak.
On youth empowerment, the Ogun Job Portal was launched in August, 2019, and within a few weeks, over 120,000 unemployed and underemployed youths had registered on the portal. Potentials employers are now able to post their vacancies on the portal and it acts as a first point of call for employers looking for qualified people to hire. The setting up of an online platform where unemployed persons or business owners, seeking career advancement, register their profiles is fast yielding the desired result. To date, about 300 firms, both within and outside Ogun State have filled their vacancies and requested to tap into the great potentials of the job portal. For instance, The Federal Capital Development Agency (FCDA) recently just hired 9 engineers through Ogun State government portal.
In all one must accept the need to collectively build the State with all its unintended consequences. Let the government do more within its resources and forget about opprobrium from some quarters on its priorities. As Abiodun himself poignantly puts it at a public forum, when 3rd mainland bridge was built during General Ibrahim Badamosi Babangida administration decades ago, some people and majority Lagosians would have thought it a misplaced priority. Today the road is even inadequate at some points. Such may be the case of some of the current "Igbega Ipinle Ogun, Ajose Gbogbo Wa Ni" strategy. Looking forward to "collectively move the State to greater height."
Igbega Ipinle Ogun, Ajose Gbogbo Wa Ni O
Kazeem, is an information Officer in the Ministry of Information & Strategy, Oke-Mosan, Abeokuta

Like and Share this: