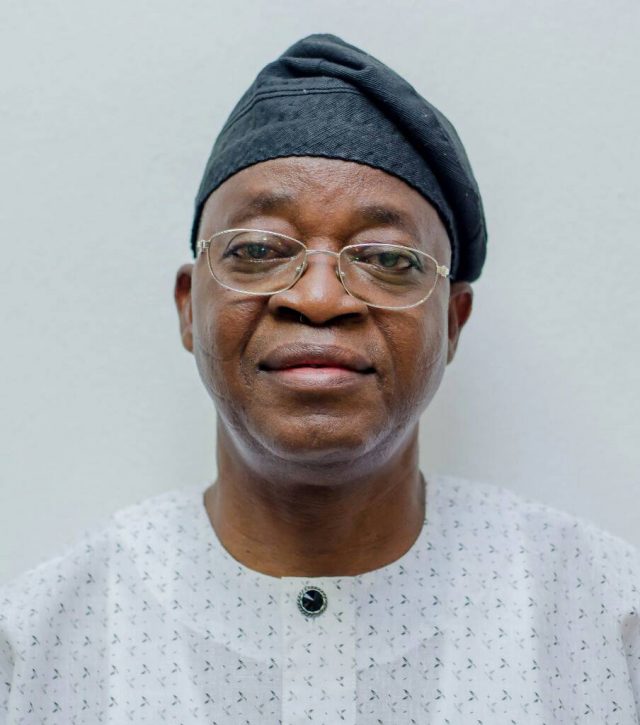 By Deborah Oladejo, Osogbo
Osun State Governor, Alhaji Gboyega Oyetola, on Thursday admonished corps members poste  to the state to see their mobilisation as a privilege to serve and impact on the society positively.
Speaking at the official opening and swearing-in ceremony of the 2019 Batch 'B' orientation at the Permanent Orientation Camp, Ede, Oyetola who charged them to see themselves as the leading lights for the present and future generations, said they should channel their energy, vigor and drive towards the achievement of lofty ideals and aspirations.
Represented by the Deputy Governor,  Mr. Gboyega Alabi, the governor warned them to abstain from vices such as drug abuse, advance fee fraud, kidnapping, robbery, cultism, violence and other criminal acts.
He also advised them to complement the gesture of NYSC and the government by being good ambassadors and advocates of peaceful coexistence and the corporate existence of the nation.
The governor therefore promised to work with NYSC to ensure the success of the scheme adding, "I want you to maximize the platform provided by the NYSC to foster friendship, understanding, peace and positive cooperation among yourselves and our people irrespective of ethnic, cultural or religious differences."
In his own remarks the State Coordinator Mr. Adegoke Adewale urged the state government to assist in the infrastructural development of the camp and the prompt payment of the state allowances to the Corp Members.
He advised the Corp Members to know that the NYSC Scheme is a unified one  ,saying what is obtainable in the state is what is obtained in all the other Camps across the Federation.
Adewale also remarked that they should not see there deployment to the state as a sheer waste of time, but rather see it as a time to explore the richness in the culture and diversity of the people of the state.
He equally asked them to abide by every laid down rules and regulations as spelt out in the NYSC bye-laws.
Adewale assured that concerted efforts have been made to ensure the Orientation Course is a Memorable one for them.
He disclosed that a total number of 2,600 prospective Corps Members were deployed to the state, Comprising 1,430 Male and 1,170 Female.

Like and Share this: