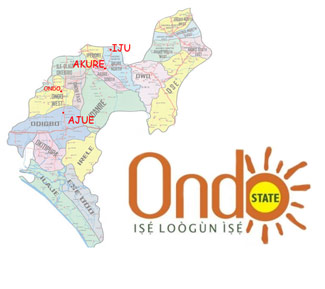 By: Temitope Adedeji, Akure
Several houses and properties worth millions of naira were grossly destroyed by rainstorm after a heavy downpour that occurred at the weekend in Akure, the Ondo State capital.
Large number of  houses were damaged by the rainfall which started on Friday evening and lasted till Sunday morning.
Many residents who were affected by the incident have already called on the Governor Rotimi Akeredolu led  government to intervene and come to their rescue as the degree of damage done was beyond their individual capabilities.
It was observed that the rainstorm that lasted over  hours damaged electric installations with poles and wires and also destroyed building roofs.
Mostly affected by the incident, were aged people who owns private apartment at the Gaga community in Akure South Local Government Area of the state.
The rainstorm also destroyed shops and blown off roof of churches in different areas of the metropolis as landlords and tenants count their losses despite the shock emanated from the disaster.
Vehicles belonging to residents of the community were also trapped by the erosion caused by the heavy rainfall with owners calling for assistance.
The effect of the heavy rainstorm has thrown the people of the community into darkness as the some electric poles supplying electricity to the area were badly destroyed and even uprooted from their space by the windstorm.
Oluwole Omotosho, the head of landlord Association in Gaga community said the people of the area needs government urgent attention to their plight.
Mr. Omotosho also begged for the quick assistance of the National Emergency Management Agency (NEMA), for relief materials.
He disclosed that the people of the community also look forward for assistance from any quarters of the society to alleviate the sufferings they are presently passing through.