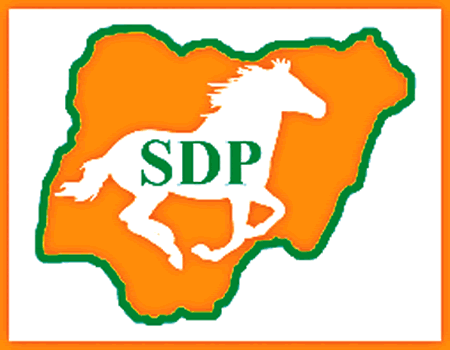 By Temitope Adedeji, Akure
Social Democratic Party (SDP), has suspended the state secretary of the party, Sola Agboola, for anti party activities and gross misconduct.
In a meeting held on Tuesday in Akure, the Ondo State capital, the national working committee of the party, under the Deputy National Chairman, (South), Dr Olu Agunloye, announced the suspension.
Agunloye who said, the party is known for its discipline and uprights, and said the suspended Secretary remained so, till further notice.
Also the party (SDP) iterated its support towards the decision of the National Working Committee (NEC) of the party to adopt All Progressives Congress (APC) Presidential candidate, Muhammadu Buhari, for the 2019 general elections.
The Acting Deputy National Chairman (South), Agunloye, stated this at a press conference, revealing that the party was reorganizing itself in the country to be an alternative platform.
Though the party had adopted President Buhari for a reelection on Saturday, Agunloye noted that it is imperative to work for the successes of other SDP candidates vying for the National and state assembly elections across the country.
Without mincing words, he added that the vision and goals of the party are beyond endorsement of candidates for the 2019 general election but improving the gains of representative democracy in Nigeria.
"SDP is to be strengthened beyond the February 16 election, what is very important for us at this critical period is building this party as a formidable force and alternative platform political for the future.
"We will maximize every opportunity at our disposal to ensuring that all the House of Assembly, senatorial and House of Representative candidates win the forthcoming elections across the Federation."
The Deputy Chairman, however, explained the reason for the presidential candidate's adoption, attributing it to the crises that ensued between Prof. Jerry Gana and the former governor of Cross River State, Donald Duke over the party's ticket.
Agunloye, who expressed unalloyed loyalty to the new Acting National Chairman, Prof. Tunde Adeniran, urged the party members to work for the success of all SDP candidates at the poll.
Flanked by the Ondo State Working Committee (SWC) members and some candidates, the party leadership announced the suspension of the state secretary of the party, Dr. Sola Agboola, who was accused of anti-party activities and gross insubordination.
According to them, the supremacy of the party is non-negotiable on the decision to adopt the presidential candidate of the ruling All Progressives Congress (APC), Buhari.

Like and Share this: