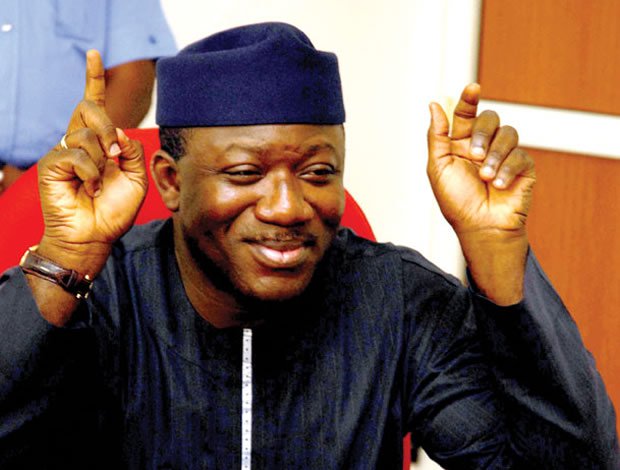 Ekiti State Governor, Dr Kayode Fayemi on Thursday inaugurated the newly constituted State Council of Traditional Rulers under the chairmanship of Alawe of Ilawe, HRM Oba Adebanji Alabi, with a call on the obas to support the present administration's efforts at bringing development to every part of the State.
The Governor also charged the traditional rulers and all Ekiti indigenes against unnecessary and baseless rivalry which can lead to communal clashes; adding that every well-meaning Ekiti-kete should aim at the peace and progress of Ekiti State.
While stating that his government has immense regard for traditional institution, Dr Fayemi said his administration relies on the traditional rulers for "maximum support to ensure that every community feels the impact of this government of restoration.
"I, therefore, use this opportunity to call on our royal fathers and elders to continue to help address anti-social behaviours in their domains. The most important ingredient of development in the State is peace and security and you all have an important role to play as custodians of the culture and tradition of our people. As our Royal Fathers, you are to be at the forefront of the State's campaign for peace and security.
"It is important to restate that the traditional institution of kingship in our society, regardless of the advent of modernism remains a rallying point for the generality of our people. It has also been serving as one of the veritable vehicles for dissemination of our policies, programmes and mobilization of the populace for same and it will continue to remain relevant to the government", he said.
While thanking the immediate past council under the chairmanship of the Oloye of Oye Ekiti, Oba Oluwole Ademolaju for the commitment displayed while in the saddle, Fayemi reiterated his commitment to the welfare of traditional rulers "within the limits of the resources available" to government.
Earlier, the Deputy Governor, Otunba Bisi Egbeyemi had said that the reconstitution of the Council of Traditional Rulers became imperative following the expiration of the tenure of the outgone council in July 2019.
Egbeyemi said Fayemi's approval to reconstitute the council was in tandem with section 2(3) of the Council of Traditional Ruler Law no 3 of 2000.
He disclosed that the government had painstakingly selected 26 rotational members alongside 32 permanent members to make up the new council whose tenure will end in 2021.
In his acceptance speech, the chairman of the newly reconstituted council and Alawe of Ilawe, Oba Adebanji Alabi said traditional institutions must be responsive to emerging global trends by proffering solutions to societal problems.
Oba Alabi said the security challenges being faced by the country could be reduced substantially or resolved ultimately if government partners traditional rulers who are closer to the grassroots.
He thanked Governor Fayemi for appointing him as the chairman of the council; saying that the council will not shirk its responsibilities in ensuring that government delivers the goodies of democracy to the people.

Like and Share this: