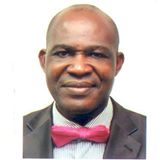 Even Holy Bible, the book of life that authorizes human existence acknowledges that a prophet is never recognized in his home town. With awesomeness of Jesus Christ, consequent upon the sign and wonders continually on his trail everywhere he visited, his people, Jews, never believed he's the anointed one from heaven. They derided him. They embarrassed him and taunted his person. They climaxed their hatred for the heavenly anointed through his crucifixion on the cross of Calvary.
How much more the Nigerian statesman of note -Asiwaju Bola Tinubu Ahmed- who has the singular honor, of being the best identifier of human talent for leadership, our nation has ever produced.  Without any iota of doubt, Asiwaju Bola Tinubu is the root, soul and heart of APC. He was the  galvanizer who mobilized all the progressives across the land including our dear president under the same umbrella that sent packing government of PDP led by Dr. Goodluck Jonathan from Aso Villa after 16 years, a feat acknowledged by the global community as uncommon in African, the continent of sit tight leaders.
Not quite long after APC took over government at the center, some few elements gathered to mobilize resources to frustrate his influence at the seat of power and even, within the party hierarchical structure. What are their grouse? What are the Asiwaju offence? His insistence that there must be internal democracy within the party; that nobody regardless of status and political antecedent should be held out as bigger than the party; that any party member desirous of occupying position particularly, principal officers both at national and state levels must be endorsed by the party. He insisted that this is the hallmark and cardinal principle of progressive party. He further posited that nobody should be allowed to come from the blue to hijack leadership. His gospel of orderliness, normalcy, decorum, discipline and that, party members must be made to subordinate their personal interests to the overall interest of the party never went down well with the 'new arrivals' who are accustomed to cutting corners and gate crashing in their former parties. These elements ganged up and drew the battle line.
That's the point APC have been within the last two years. The party is factionalized at all levels. APC remain the only party without BOT. The Central Working Committee has not met for months. Elder John Oyegun, the national chairman has completely lost focus. He is obviously not in control. As incredible this might have sound, that's the naked truth! In the history of party politics in Nigeria, this is the very first time that a party with a clear majority at National Assembly is finding it absolutely difficult to implement programs promised the citizenry because its members have constituted themselves to opposition, blocking every good moves of the executive and creating barriers in ensuring many laudable programs of the government do not pass through them. What has been the lot of APC over the last 15 months have been 'All motion, no movement' simply because of intrigues, lack of discipline, petty jealousy, envy and strife. The truth is that it's an auspicious time for the major stakeholders within the party to reflect on this unsavory development before the rejuvenated PDP sweep us away from Aso Villa. Recall that PDP were in government for 16 years, a development which provided them platform to master power intrigues, fundamental of winning strategies and power dynamics. Even though they were outclassed and outfoxed by APC hurricane during the 2015 general elections resulting into multifaceted problems they went through, the recent Supreme Court verdict restoring back Sen. Makarfi as the caretaker chairman of the party has made them to regroup and become more stronger.
The notable and shrewd politicians who made them the talking point then, are still within their fold and are rearing to vigorously challenge APC in the race towards Aso Rock Villa comes 2019. They've men, they've resources, they know the terrain quite well, they've political blocs they could reactivate and reinvent any time. They also have tremendous networks. They only need to present credible, acceptable and visionary personality as their presidential candidate and before you call Jack Robinson, they are back again in Aso Rock! With the present state of APC, it's not assured that we've the necessary wherewithal with respect to, unity of purposes and togetherness, as well as political maneuvering to outwit them. APC is presently dismembered, disoriented and disorganized as a result of unnecessary bickering, power play and indiscipline as well as insubordination of few members, who feel they are too big for the party to  be controlled.
PDP in their glorious days arrogantly boasted that they would be in power for 60 years. The end came not quite long after that pronouncement. We are hopeful that we would not go the way of PDP but the antidote not to make APC exiting prematurely from Aso Villa remains:
The party management MUST be returned to Asiwaju Bola Ahmed Tinubu who midwife the party in the first place. Despite the self-imposed challenges and barriers the party placed on itself, Jagaban has the Midas touch and capacity to reinvent, reposition, restructure and reengineer the party ahead of 2019 general election and even beyond. He is screwed. He is an acknowledged political tactician and strategist. He is a unique grass roots mobilizer, a bridge builder of repute and a talent identifier per excellence. Asiwaju is a reputable commander at political war fronts. He is tested and trusted having done it before both at national and state levels as well as local government level. I encourage all the stakeholders within the party to pause a little to reflect on this; of all leaders who collaborated to exit PDP from government, Asiwaju remains the only one without political office. While others were devilishly scheming, jostling and struggling for offices they are deserving and even, not deserving, Jagaban is the only one pre-occupied with building the party and its structures as well as ensuring that credible, resourceful, committed, visionary and loyal party members are either elected or appointed into positions of authority. That's the type of leader he is. That's the qualities he has, which made him the toast of every rational thinkers. A leader imbued with attributes of selflessness, statesmanship; that's Asiwaju of Lagos. Despite the gang up against him, it has not in any way affected his commitment, loyalty and massive contributions towards the growth and development of the party. It has not stopped him from criss crossing the nation in commissioning one project or the other he's been invited by state governors to commission. It has also not affected his 'think tank' role aimed for the party progress and development.  Let's all the stakeholders swallow their pride and accord honor to whom it's due if we don't want APC to go of PDP.
Secondly, it's also important for stakeholders in the party to cultivate imbibing the political culture of internal democracy and party discipline if APC must move out of quagmire. Chief Obafemi Awolowo of blessed memory was an ardent apostle of internal democracy; a political model that propelled awesome development in political and socioeconomic spheres in the entire western region during his reign as premier. If a template is productive and developmental, what's stopping its adoption? Bola Tinubu, Pa Bisi Akande and quite a number of APC chieftains in the south west were all students of this model, so what's stopping us from borrowing from their experiences?
It's also germane that APC, should henceforth encourage massive involvement of youth in its affairs at all levels. In contemporary party politics, philosophy of 'generational shift' has become dominant. It's really not ideally for our party to continually parading politicians of yester years who obviously have passed their prime in critical and vital elective and appointed offices. The earlier the party has massive infusion of youth population in its fold the better for us and the nation. The face of political leadership is changing across the globe, our nation and by extension, our party must not be left behind.
Like and Share this: