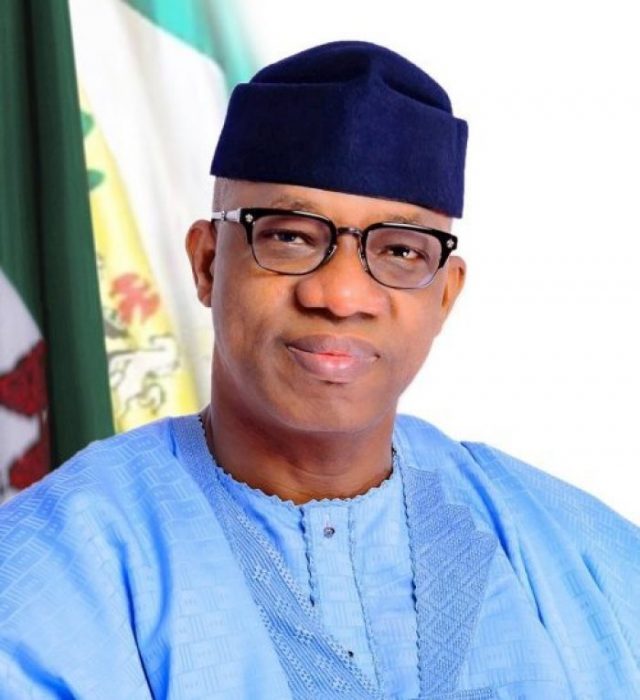 …encourage teachers to do what is the right thing
By Kolawole Olayinka, Abeokuta
Ogun State Governor, Prince Dapo Abiodun, has reinstated Mr. Olusoji Majekodunmi, Deputy Director in the Ministry of Education, Science and Technology who was sacked and retired by the immediate past administration for supporting Senator Solomon Adeola towards his 2019 governorship ambition.
Also reinstated is the former Chairman, Nigerian Union of Teachers, Ogun State Chapter, Mr. Dare Ilekoya who was retired compulsorily for infractions during the 2017 World Teachers Day celebration.
Abiodun who announced the reinstatement during the 2019 World Teachers Day celebration in Abeokuta, said "the action was to encourage teachers and also the right thing to do."
Majekodunmi who was compulsorily retired by the Senator Ibikunle Amosun-led government was the Deputy Director in charge of setting disputed English Language questions for the state's unified examination in 2015.
Abiodun equally enjoined teachers and other union leaders to be moderate in their approach in all their agitations from government, saying "our labour unions and associations to always show understanding in your agitations as no meaningful results can be achieved in an atmosphere of rancor and discord".
Speaking on the reinstatement of the sacked teachers, Abiodun said, "I wish to reiterate that this administration's commitment to the principles of equity, fairness, justice, and inclusiveness is neither a vote-catching phrase nor a populist sound bite.
"Besides, we believe in the adage that to err is human and to forgive is divine. It is in the light of this that I approve the immediate reinstatement of Messrs. Olusanjo Majekodunmi and Oludare Ilekoya back to service from their compulsory retirement over the 2015 English Language examination question and 2017 World Teachers' Day celebration respectively.
"This gesture is not only to encourage our teachers. It is dictated by natural justice, and it is the right thing to do.
"I urge all our public servants to observe the professional ethos and avoid any conduct that is not in tandem with public service rules at all times. It is my hope that this gesture will be reciprocated with an increased commitment to duty and that appropriate lessons have been learned."
He observed that "education is a key element of the nation building and a catalyst for the mental, physical, social and spiritual development of humanity. Its rising importance does not only reflect the reality of our society, it also resonates in the new demands of the contemporary world.
"Technology is fast changing the mode of operation in every facet of life, and this has positively reflected in the service delivery of the teaching profession and the development of the education sector in any nation."
Speaking earlier, the State Chairman, Nigeria Union of Teachers, Comrade Titilope Adebanjo, said teachers occupy important position not only in the business of teaching and learning but also in the development of the society as a whole.
He called for the improvement in teachers condition of service to attain desire standards adding that they were ready to contribute their quota to Reposition the sector.
Also speaking, the State Chairman of Academic Staff Union of Secondary Schools, Comrade Akeem Lasisi, said a clinical analysis of this year' s theme showed that all was not well with the teaching profession, especially in Nigeria, calling  government nation all  levels to work towards revamping the sector.
He commended government for approving the release of 2016/ 2017 promotion for teachers in the State, pledging to redouble their efforts to take education sector to greater height.

Like and Share this: