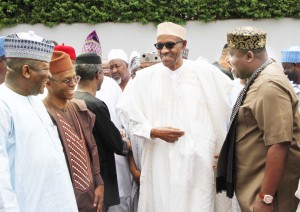 PRESIDENT Muhammadu Buhari is said to be considering some measures that would cement his relationship with former governor of Lagos State, Senator Bola Tinubu, following the cracks between the duo over the management of National Assembly leadership crisis.
Sources close to the APC confirmed to the Nigerian Tribune that the presidency had discovered lately that Tinubu was angry and had been putting some measures in place to pacify the national leader of APC.
Tinubu's camp was said to have been angered by Buhari's failure to back its strategies that would have ensured the emergence of candidates of the party for the positions of Senate president and Speaker of the House of Representatives.
It was learnt that Tinubu was particularly angry that Buhari did not make good his promise to address APC legislators at the International Conference Centre on June 9, leading to the emergence of Senator Bukola Saraki as Senate president.
It was also gathered that Tinubu's loyalists manipulated Buhari's men in the uprising that shut out the former Lagos governor from the last National Executive Committee (NEC) meeting of the party, held in Abuja, last week.
Though Tinubu is not a member of NEC statutorily, no one really made an issue out of that until Buhari assumed office.
Some Tinubu loyalists said they suspected the presidency might have given tactical backing to the group of former governors, who threatened to storm the meeting if Tinubu was allowed at the venue.
It was, however, gathered on Thursday in Abuja that Buhari had resolved to pacify Tinubu, so that the party would not break up under his watch.
A source said the presidency was considering giving Tinubu four ministerial slots, to compensate for the loss of speaker and Senate president.
It was also gathered that Buhari's late rally of Senator Ahmad Lawan group and loyalists of Honourable Femi Gbajabiamila was stemmed out of his belief that Tinubu had to be accommodated to further consolidate the APC.
But sources in the party said that there are some hardliners who were of the view that Buhari could continue to call Tinubu's bluff, having assumed the position of party leader.
A former security chief and another retired secret service agent were said to be heading the crew of Buhari loyalists urging the president to call Tinubu's bluff.
"A number of some hardliners in the party are insisting that Buhari should ignore anything from Tinubu, believing that the party can do without him," a source in the party said.
- Tribune
Comments
comments
94 Total Views
1 Views Today