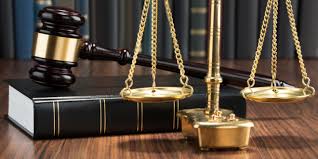 The Election Petitions Tribunal sitting in Abuja over the petition filed by the Peoples Democratic Party (PDP) governorship candidate, Senator Ademola Adeleke, challenging the election of Alhaji Isiaka Oyetola of the All Progressives Congress (APC) is still giving its verdict in the case currently.
Senator Adeleke had prayed the tribunal to cancel the results of the poll and declare him as the winner, alleging widespread irregularities in the election..
Below is a blow-by-blow account of the Tribunal ruling thus far as given by WESTERN POST Correspondent covering the tribunal in Abuja:
The Ruling as regards tables was struck out as there is no merit in the application.
Reserved Ruling on 2nd & 3rd Respondents on the jurisdiction of the Tribunal to adjudicate on the matter is as follows: Petitioners complied with the letters of the Electoral Act. Petitioners case is well set out and there is nothing to rob them of jurisdiction of this Tribunal. The statutory date was clearly filed within the said time after the rerun election.
With regards to the issue of the 3rd Respondent that the non-joinder of the other candidates of the election and also just mentioning the scores of only PDP and APC. The court held that it is only the score of the winner that is challenged and the argument is ill conceived and it is hereby struck out.
The argument of 3rd Respondent/Applicant that the suit is statute barred is answered in the negative.
The last ruling is on the 2nd & 3rd Respondents to strike out the Petitioners Reply.
The second Ruling is on the use of Tables inserted in the Petition.
Objections on the competency that the seal attached to the Reply brief is incompetent is struck out as lacking merit.
The main grouse of the Petitioners is that tables inserted by the Respondents be struck out as the schedule to the electoral act made no provisions for that for the Respondents.
Paragraphs in the affidavit of the motion were struck out for consisting legal arguments and opinions.
He is going polling unit by unit to see where new issues were either raised or not in the Reply brief.
He is proceeding with the issue of new issues alleged in the Reply brief by the 2nd Respondent.
The judge is through with the Ruling.
Two applications succeed in part.
Paragraphs of 22,18 and some others discountenanced as regards the Reply.