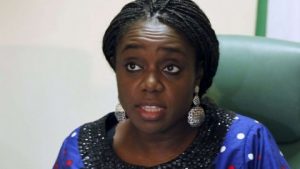 The European Union (EU) on Monday pledged its support for the ongoing efforts of the Federal Government to rebuild some parts of the North East and Niger Delta regions by earmarking 20 million Euros for the reconstruction of markets and warehouses in Borno and Delta States.
The EU Ambassador to Nigeria, Mr. Michael Arrion, who gave the pledge during a visit to the Minister of Finance, Mrs. Kemi Adeosun in her office, said the funds would be offered to the two States in the form of budget support.
"Sometime ago, we talked about budget support but we will be able to do that only at the State level, using a special instrument meant for countries emerging from war, and we can look at States in the North East and look at specific projects in terms of financial support to their budgets," he said.
However, Mrs. Adeosun said all the financial analysis needed to facilitate support to the States had been put in place, pointing out that the Fiscal Sustainability Plan required a 

 

21-point fiscal reform programme that enhanced transparency, accountability and efficiency.
According to the Minister, the funding arrangement would help in healing the wounds caused by insurgent activities in the North East. She said it would also give hope to the Niger Delta people who have been impacted by 

 

pipeline bombings and the attendant environmental problems in the area.
The EU Ambassador said the quest to invest in Africa was largely informed by the need to discourage migration to Europe, pointing out that several thousands of Nigerian citizens have continued to migrate to Europe.
He said, "

We have specific objective for creating this instrument and it is to address the root cause of migration.

 

We are presenting this initiative within the framework of the global response to irregular migration.




Today we have a few thousand Nigerians in Europe, and we feel we have the responsibility of attracting them to come back to Nigeria.
"By investing in Africa, we will be creating jobs. We will be mixing grants with loans. We believe the grants will have a leveraged effect," He disclosed that the EU, has in the last two years invested over 300 Billion Euros in Africa.
Comments
Comments